An in-depth look at
Boiling Water Taps
Treske's kitchen designers give us their insider take on Boiling Water Taps and how to choose the best for your new bespoke kitchen.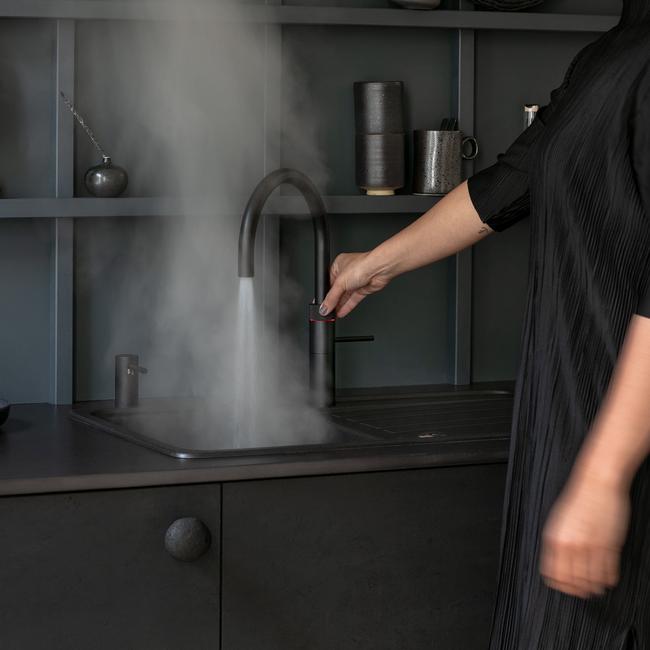 Why should I have a Boiling Water tap?
Boiling water taps do transform the way kitchens are used, from everyday cooking to regular cups of tea and coffee, to dispensing filtered chilled and sparkling water, to doing the washing up! Boiling water taps deliver water at 100 degrees Celsius, whereas hot water taps are lower and near-boiling.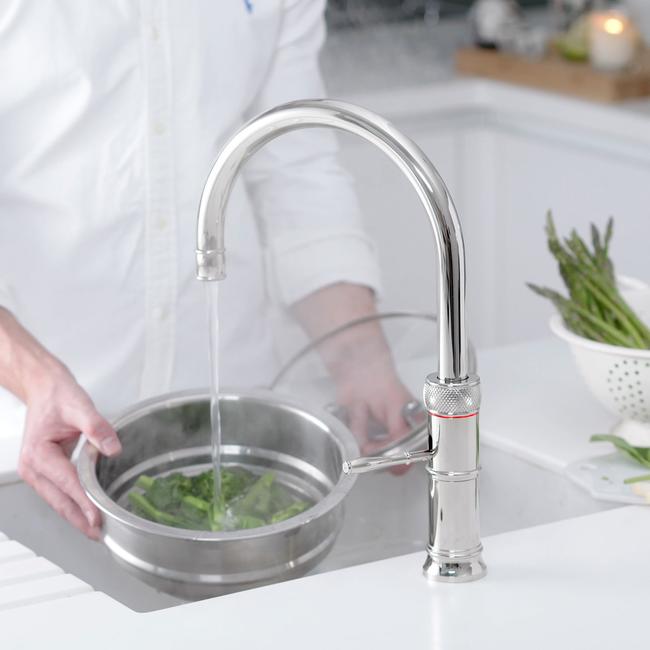 How does a Boiling Water tap work?
In the Quooker range of boiling water systems, a small tank in a kitchen cupboard, often fitted below the sink, is linked to the boiling water tap on the work surface. The tank is connected to the mains and acts as a thermos flask using very little energy to keep the water in the flask at 110 degrees Celcius. The water only boils when the tap is turned on as it is under pressure within the flask, so that as this is released by the tap the temperature of the water flowing out drops to 100 degrees Celsius. Fresh water replaces the water dispensed from the tap to start the process again. This is a true boiling water tap.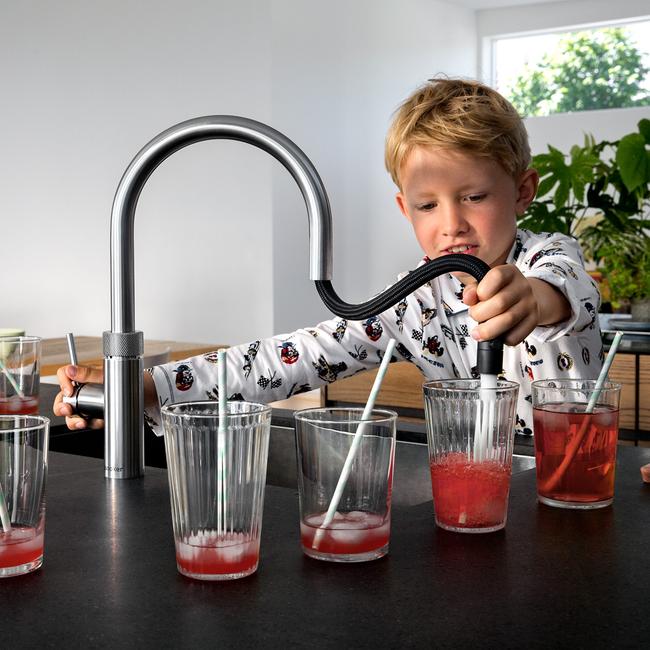 How can the Boiling Water tap also filter and dispense sparkling chilled water?
Options for switching from cold to filtered cold water are good ways of being able to avoid the need for plastic bottles. Tap water passes through a filter with activated carbon helping the water taste and smell. Filters are easy to replace but need changing every year. Quooker's CUBE allows the additional dispensing of chilled and sparkling water and includes two filters that purify the water, with up to 70 litres of sparkling water from one CO2 cylinder.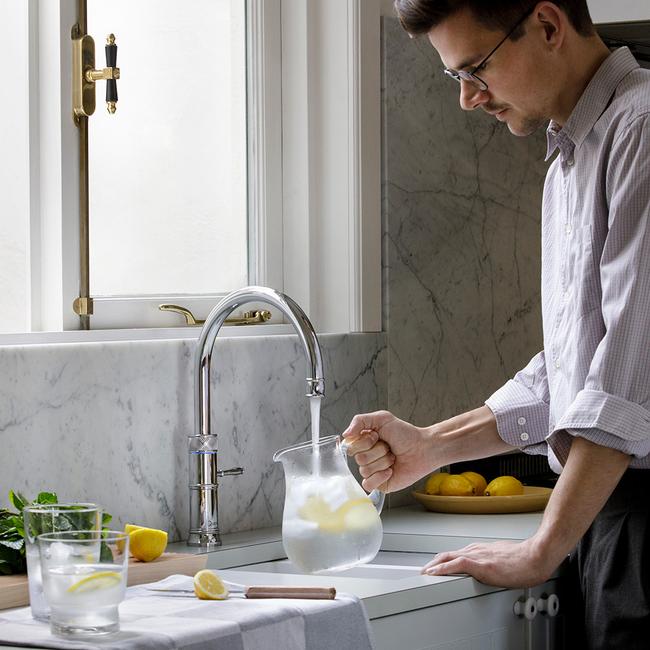 How safe is a Boiling Water tap?
A boiling water tap eliminates the need for a kettle, base, and trailing electrical lead. The tap cannot be knocked over or spilt accidentally like a kettle. Boiling water taps require a double push and turn on a well-marked ring, that is separate from standard hot and cold water. The water when it is dispensed is injected with air avoiding scalding and the tap itself is double insulated so is cool to the touch.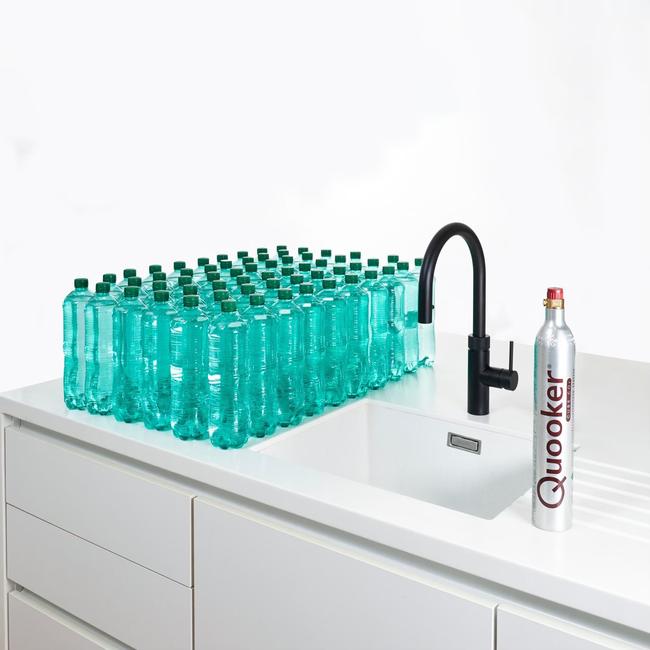 How economic is a Boiling Water tap?
Dispensed water from a Boiling Water tap is the amount of water needed rather than overfilling and boiling a kettle and perhaps even re-boiling it having left and returned to the kitchen. The comparison with repeat boiling of an overfilled kettle is an inefficient process compared to the boiling water tap.
What are the design options for a Boiling Water tap?
Quooker taps can be specified in different finishes – Black, Chrome, and Steel, with some models also available in nickel, patinated brass or gold. Spout shape options are chosen from a contemporary square or a classic round spout. All models when combined with a CUBE can dispense chilled sparkling water. Models can also be specified to have a flexible pull-out hose for additional reach in the sink.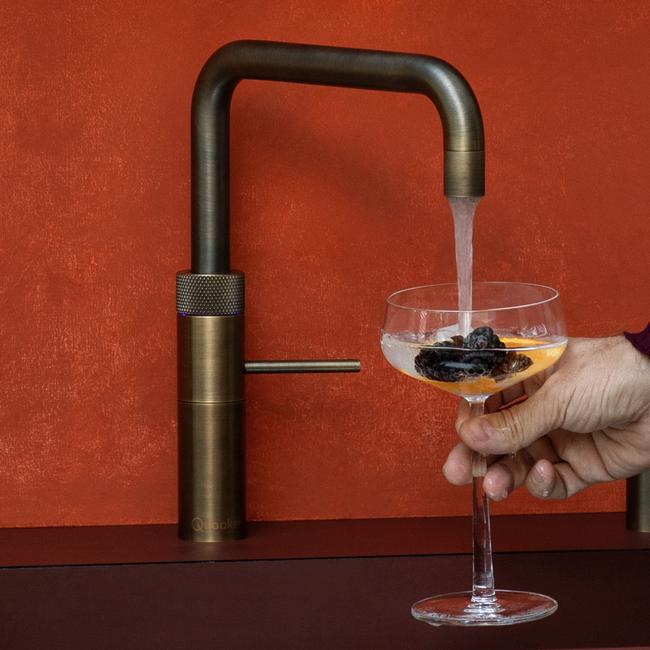 Treske designers are here to help
Treske kitchen designers are on-hand to help our customers choose the best Quooker tap for their new kitchen design. At the Treske showrooms in Thirsk, Quooker taps are installed so that customers can see the tap working and talk through options with a knowledgeable kitchen designer. Most often this is part of a customer's design process as they determine what they want from their new kitchen.
Take the first step towards a brand new kitchen
Arrange a no-obligation consultation with one of our bespoke kitchen designers