5 Must-Have Appliances for your New Designer Kitchen
Introduction
So, you have taken the plunge and have decided to get a new kitchen for your home. Exciting times, but possibly daunting. This could be the first time for a long time that you have bought a new kitchen, and things have moved on since you purchased your last one and you are getting bogged down with choosing your appliances. Should you get a steam oven or a microwave? Induction hob or gas? With so many options it can be confusing, it's a big investment and you want to get it right.
The good news is – don't worry! - we are here to help you by highlighting the top 5 must-have appliances in your new kitchen. As industry insiders, we can give you the information that you need to help you to make the correct decision.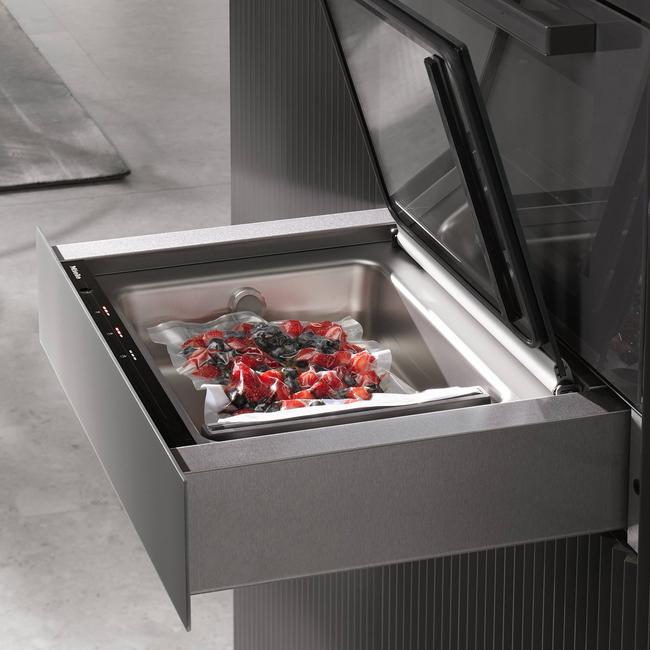 #1 Vacuum Drawer
Vacuum packing has been done in commercial and retail environments for decades, however recently it has become more widespread in the home, with the availability of the vacuum drawer. On the surface, it looks just like a warming drawer, but it is used for many purposes including:
For extracting air and oxygen from food to optimally prepare it for sous-vide cooking in the steam oven.
Portion, store, marinade or reseal fish, meat and vegetables.
Vacuum and seal food prior to freezing for maximum shelf life. Vitamins and flavours are preserved, and freezer burn is eliminated.

Image - Miele EVS 7010 Handleless build-in vacuum drawer, 14cm of height for professional vacuum packing of food.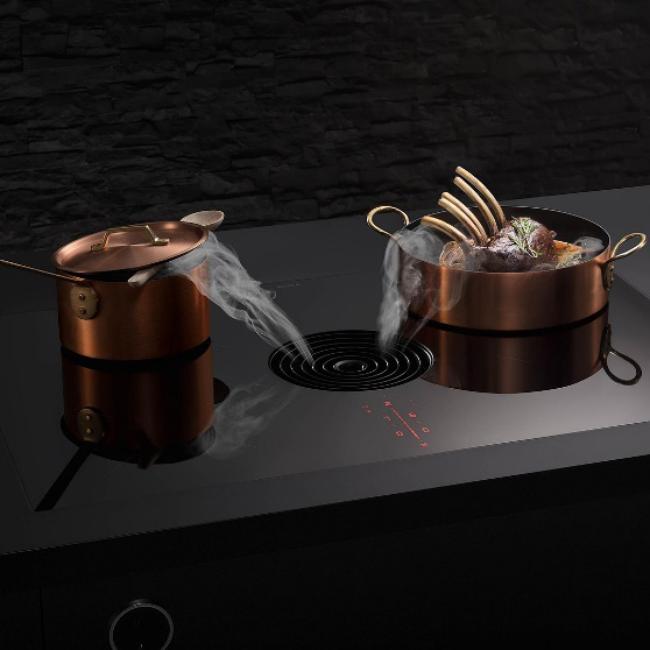 #2 Combination Hob and Extractor
The evolution of the kitchen has had a big impact on extraction in recent years. The open plan kitchen living area, and location of the hob in the central island, has meant that people have been looking for more discrete solutions rather than a grey, blocky extractor chimney in the middle of the room. This is one of the reasons why the innovation of the combined hob and extractor has been so good. The cooking smells and steam is removed at source rather than after travelling 4 feet upwards making it far more efficient. With ducted or recirculating options available – location possibilities are increased.
Image - Bora Pure power level automatically adjusts to the cooking behaviour optimising airflow through the quiet fan technology.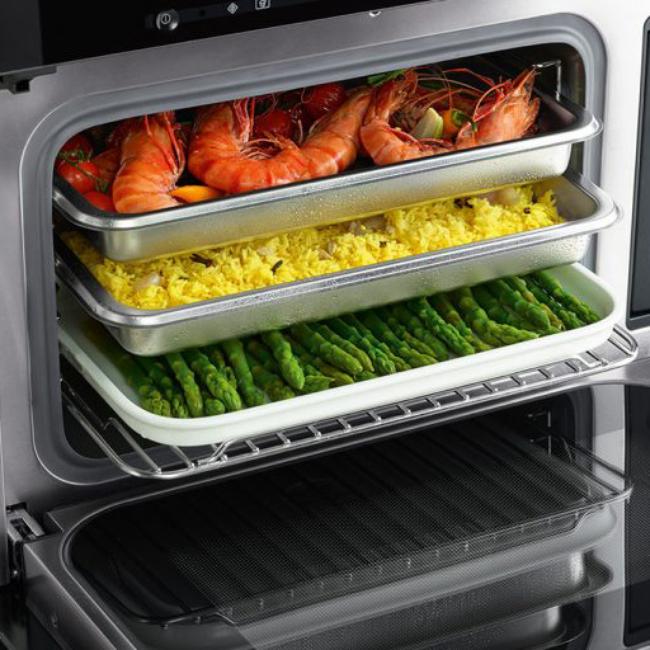 #3 Steam Oven
Steam ovens are a versatile appliance and do much more than the worktop steamers we are all familiar with. Like everything there are lots of options and thought needs to go into what is the best option for you.
Plumbed in or tank fed? This will depend on whether you can get the necessary plumbing in place. If not don't worry as some manufacturers' water tanks can hold up to 1 litre, enough for 90 minutes of cooking.
Conventional heat combined with steam is an option. This appliance is excellent for cooking small joints of meat which means that the joint will not shrink or dry up, but still brown and looks tasty. After all, we do taste with our eyes first!
Great for cooking fish, rice, pasta, potatoes and veg.
Much better than a microwave for warming up last night's tea. Slower, but you end up with a moist, tasty dish, rather than something resembling the taste and texture of cardboard.
A fantastic way of cooking if you are interested in healthy food. Vegetables hold their vitamins as well as their colour and flavour.
Image - Miele Steam Oven DGC 7840 an XL Steam combination for steam cooking, baking and roasting.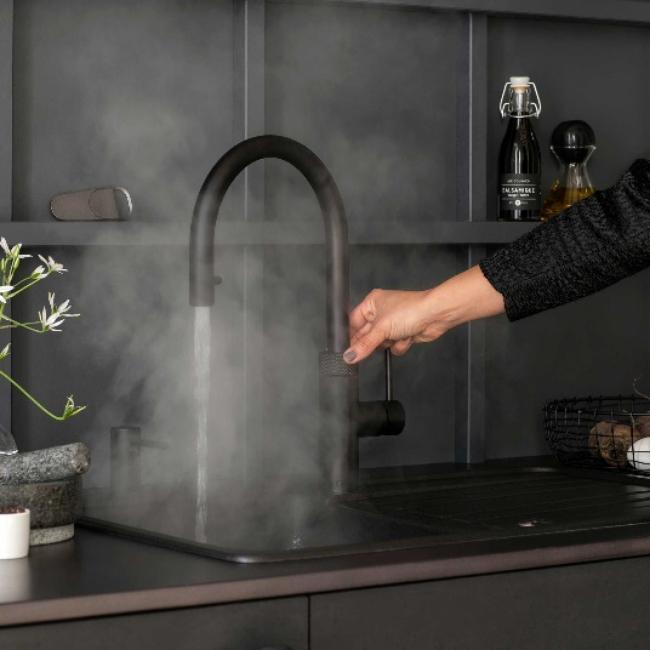 #4 Boiling Water Tap
Boiling water taps have been part of kitchen design for a while; they are one of the most desirable and useful kitchen appliances. Not only does a boiling water tap replace the kettle, but it offers so much more:
Dispensing boiling for making hot drinks, as well as for cooking rice, pasta, vegetables and potatoes.
Tap options can include boiling, as well as standard hot and cold water in a 3-in-1 tap.
It can sit over your kitchen sink or can have its own dedicated font to enable you to add it into any area of the kitchen, including your prep area or bar area.
Options include filtered, chilled still and sparkling water.
It's safe to use, actually much safer than a kettle. You are more likely to drop a kettle on yourself than you are to scold yourself with the tap. It also saves an appliance cluttering up your worktop.
A boiling water tap is more cost-effective to run than a kettle, and you have the boiling water ready for you whenever you need it, so its super convenient.
Image - Quooker Fusion for cold, hot and boiling water from one tap, also chilled sparkling water when combined with a Quooker CUBE.
#5 Coffee Machines
Coffee machines are not for the elite. They are for everyone who enjoys good quality coffee without the inconvenience of having to go out to collect it. Again, there are lots of options available so it is a case of getting the right one for you:
Integrated or worktop option? You can get a small machine that sits discreetly on your kitchen worktop, or one that integrates into a cupboard like an eye-level oven, with a warming drawer below to keep your cups warm.
Similar to the steam oven we discussed earlier, there are plumbed-in and tank fed options.
Some models have an integrated milk dispenser whilst others have a steaming spout for frothing your milk. Just ensure that if you go for the milk dispenser you keep on top of the cleaning.
Some machines grind the coffee from fresh beans whilst others accept coffee pods. The pod option is nice if you enjoy using a variety of flavours and don't want to be constantly changing the feed.
As you can see, real Café quality coffee at home really is possible.
Image - Miele CVA 7845 Built-in Coffee machine with DirectWater perfectly combinable design with CoffeeSelect + AutoDescale for the highest standards
Planning a new Bespoke Kitchen...
Why not arrange a no-obligation consultation with one of our bespoke kitchen designers?